Structural Insulated Panels (SIPS)
What are Structural Insulated Panels (SIPS)?
SIPS/Structural Insulated Panels are a sandwich panel with OSB on the outside and the foam core is between the OSB, creating a panel. This creates a foam that is much stronger than you may think. SIPS have some similarities of ICF/Insulated Concrete Forms.
SIPS Utilize Simple Technology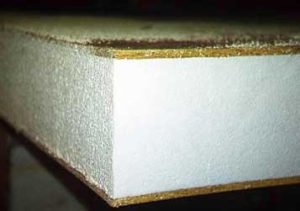 SIPS can be an intrinsic part of a high performance, eco-based home. Green buildings and systems rely on a well-insulated building envelope to ensure their efficiency. Through simple technology, SIPS enable a home to reach optimum performance. SIPS panels are generally made by sandwiching a core of rigid foam insulation between two structural skins of oriented strand board (OSB). As an alternative to building a conventionally wood-framed home, SIPS are not limited to just new buildings but can be used for walls, floors, roofs and room additions as well.
Why use SIPS?
Save money on your utility bills. Structural Insulated Panels are considered a "green" building material because: Improved thermal performance reduces energy consumption: less expensive heating and cooling systems are required with SIPS construction
SIPS save time and money because they are framing, sheathing and insulation all in one. SIPs are manufactured under factory controlled conditions and can be custom designed for each home. They are prefabricated and shipped right to the construction site ready to install. This is both time and money saving compared to the labor requirements for a standard frame home. The result is a building system that is extremely strong, energy efficient and cost effective.
SIP panels require significantly less dimensional lumber (up to 70% less lumber in a SIP wall)
SIP panels are composed mainly of oriented board strands (OSB) which come from fast growing farmed trees. Low- or no-formaldehyde OSB's are available.
Efficient use of materials in a factory environment means less waste and less reliance on landfills
SIPS typically reduce exterior framing lumber on a house by 25 to 50 percent. They also reduce labor costs by more than 1/3. SIPS save energy, money and labor, reduces wood requirements and increases comfort.